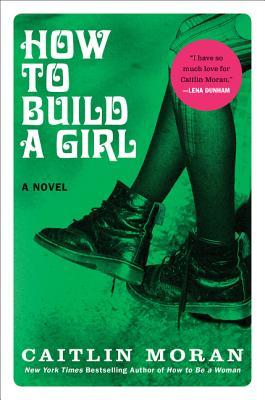 352 pages,
Published September 23rd 2014 by Harper
Caitlin Moran's debut novel How to Build a Girl is the story of fourteen-year-old Johanna Morrigan's reinvention and simultaneous coming of age in 1990s London.
After suffering a huge embarrassment on local TV and making a slip-up that might cost her family their monthly benefits, Johanna decides to make some serious changes. She begins submitting music reviews to a London journal, discovers an all-black wardrobe, and falls in love with a rock star.
By seventeen, Johanna goes by her nom de plume, Dolly Wilde, and has become the quintessential rock journalist - she's a hard-drinking, poison-pen-wielding self-proclaimed Lady Sex Adventurer. Despite her success and adventuring, Johanna isn't quite happy living as Dolly Wilde. She no longer wants to write negative reviews of bands she hates, but to be positive about those that she likes.
How to Build a Girl by Caitlin Moran is one of those rare books that can be described in one word: hilarious. If you're like me, then you won't just be chuckling to yourself during this book, you'll be full-on laughing out loud. I expected a pretty standard coming of age story, mostly drama, some thoughtful musings. Instead I got a hilarious story told by one of the most unique protagonists I can recall. Johanna is smart, witty, and blunt. She speaks candidly about the things teenage girls deal with, like masturbation, sex, and periods. Johanna's voices makes How to Build a Girl into a refreshing take on adolescence and making one's mark on the world. My only qualm with the the novel was that Johanna's "sex adventuring" got a bit repetitive after a few anecdotes. I have no problem with mentions of sex and the stories were, of course, still funny. But after several tales of Johanna's misadventuring with men, the stories became a little more bland and ran together.
How to Build a Girl reads like a hybrid of The Bell Jar, Almost Famous, and Angus, Thongs, and Full-Frontal Snogging. With a sharp, funny narrator, Caitlin Moran provides a story that's relatable enough for readers to reflect on their own adolescences and how they eventually "built" themselves.
Rating: 4/5
**I received a free e-galley of How to Build a Girl from Edelweiss.